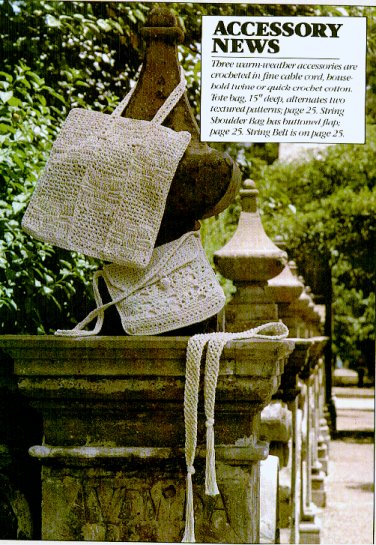 (click image for larger view)
PRINTABLE VERSION (text only)
STRING BELT
SIZE: 1 1/2" wide by 40" long, plus tassels.
MATERIALS: Cable cord*, about 1/16" diameter, 80 yards or 2 balls (66 2/3 yards per ball). Crochet hook size F.
BELT: Leaving 10" end, ch 9.
ROW 1: Sl st in 5th ch from hook, (ch 3, sk 1 ch, sl st in next ch) twice. Ch 3, turn.
ROW 2: Sl st in first sp, (ch 3, sl st in next sp) twice. Ch 3, turn. Always turning work in same way, repeat row 2 until piece is 40" long, or desired length. At end of last row, ch 1, turn. Work 7 sl sts across last row. End off; leave 10" end.
Tassels: Cut 10 pieces of cord 18" long. Thread 1 or 2 strands through each ch at first end of belt. Bring all ends tog evenly. Make a tight knot with all 21 ends, knotting close to belt. Trim ends. Make another tassel at other end.
*I used Aunt Lydia's Denim Quick Crochet. You can find it at most Wal-Mart's, Jo-Ann's, or your local craft store, probably with or near the crochet thread.
* From McCall's Crochet It! (mid-70's, no date given.)